The lush green meadow in front of our house gives us strength and confidence. We would be happy to share these positive feelings with you.
We have two children, and we are convinced that time spent together in nature is more important than ever. Therefore, this summer the little ones under 16 years of age will be our guests for free – 1 child in an extra bed per family (our offer till 8 Agust).
Public life has restarted in South Tyrol, although in a new, safe way. Stay informed about your next holiday in South Tyrol: safe travel.
Breakfast? Sure! Enjoy it in our spacious breakfast room with inspiring panoramic view! We serve breakfast at the buffet or at the table. As you wish.
#flexible booking this summer.
New! Our maxim "Act green"": Are you travelling by public transport? That's great, nature is grateful for that. And we thank you by giving you a 5% discount.
Together in the mountains,
Carolin & Alexander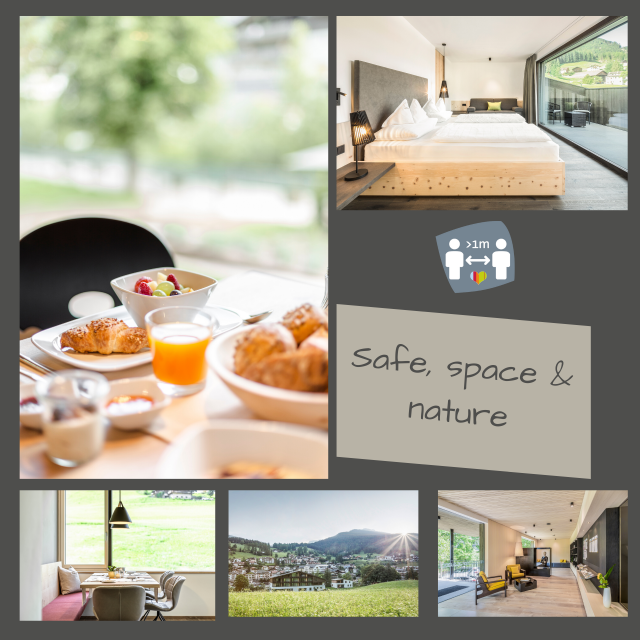 A Green
Hotel
Amidst the humming meadows
I suddenly felt the lightness ...
And came wandering in.
Why the poetry? Because it takes time to write — which, for us, is a big deal. Whether or not you have time to spare, it makes no difference to us at the Pra Palmer GREEN B&B. We just take our time.
Us? To you, we're Carolin & Alexander; a likeminded pair who see eye-to-eye on the things that matter most to us: People, The Environment & Quality of Life. And, of course, our magnificent Val Gardena Valley! Are we naive? Maybe. And if we are, who cares? It's for a greater good!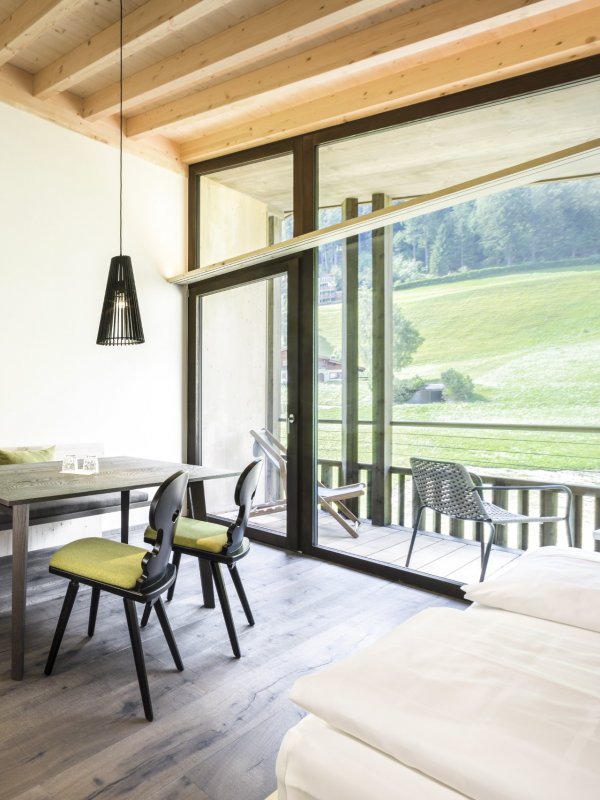 Relaxing adventure holiday?
Does that sound contradictory?
No, not at the Pra Palmer Green B&B in Ortisei/St. Ulrich. At our 3-star accommodation in Val Gardena, we're happy to forgo certain elements usually found in other establishments.
For a start: no packaging is allowed when the orders for our breakfast ingredients are delivered to us. So, our suppliers have to substitute plastic-wrapped commercial groceries for fresh, local ingredients from the nearby farms.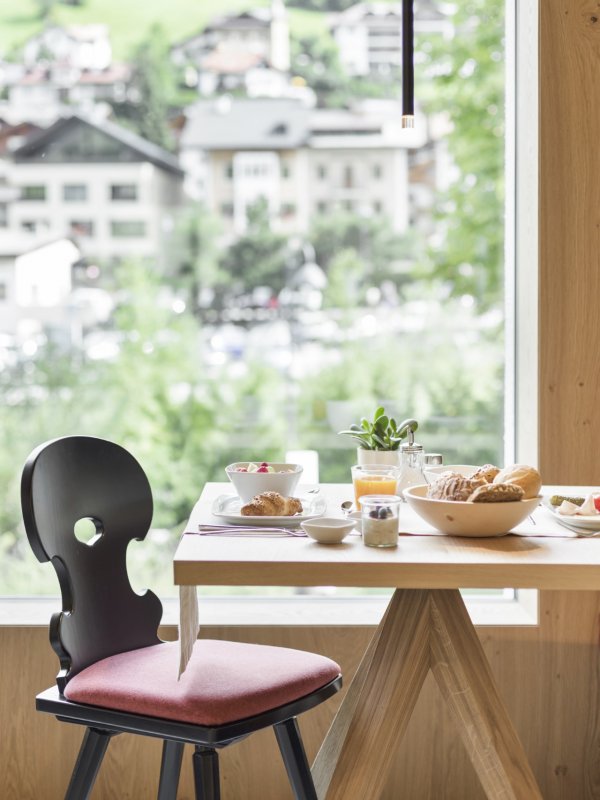 At the Pra Palmer GREEN B&B, urbanites have no choice but to detox from city life. Though we're located in the middle of Ortisei, we're surrounded by meadows and greenery. The Pra Palmer B&B is especially child-friendly and kids have all the space they need to play. In summer they can run around, while in winter the conditions are ideal for sledding and practicing their first ski runs!
The Pra Palmer B&B in Ortisei is also a relaxing hideaway for families, couples and nature lovers. There's plenty of space here to park your bike. Spread out your map on the ground or just put your feet up. We're the optimal base camp for the start to your adventures in the Val Gardena!
Here, you're surrounded by the Dolomite Mountains, the most spectacular in the world, and spoilt with sumptuous local specialties.
What more can we say about our magnificent natural setting? The majestic Dolomites in Val Gardena need to be experienced in person! A UNESCO World Heritage Site, the Dolomites are a true haven for nature lovers, adventure thrill-seekers, families on holiday, sportspersons and assorted vagabonds – in all seasons of the year!
At our place, there's plenty of time for everything, as this is the realm of tranquillity. Oh, and there aren't any noises and smells coming from the kitchen. Why should we have our own restaurant when there are numerous excellent eateries all around us: from local South Tyrolean, Italian to upmarket restaurants. And if you prefer, you can also cook for yourself.
With Nature as our closest ally - we firmly believe in responsible tourism!
So, here at the Pra Palmer GREEN B&B we're a relaxed, no-frills kind of establishment. Only when it comes to the environment, are we slightly less tolerant. Which is why our apartments had to be built with high-grade, eco-friendly materials – and are cleaned using only eco-friendly detergents and materials.
Another topic that rates high on the agenda at the Pra Palmer GREEN B&B, is the separation of waste. It doesn't cost us much to take care of and it contributes al lot to the upkeep of the environment.
If you're on the same wave-length as us, then please drop by for a visit. And even if you aren't, please come anyway. After a short chat, you'll see — we're sure to get along. All that matters … is that you make time for it!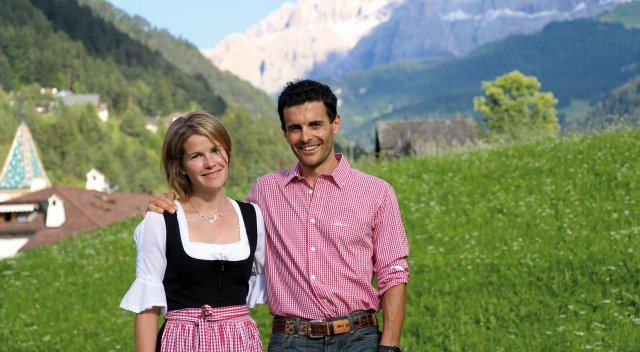 Carolin & Alexander (that's us)
look forward to meeting you!